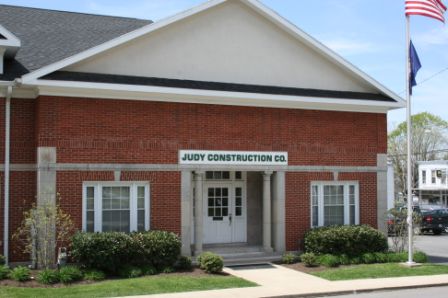 Welcome to Judy Construction Company...
... since its inception in 1974, Judy Construction Company has developed a broad spectrum of expertise. Our Rapid Growth is paralleled by our ongoing commitment to service and consistent quality results. The hands-on-management style and professional service standard adopted by Judy in the beginning, are the cornerstone of our success in the construction industry. Today, our resume includes project experience in water and wastewater treatment facilities, commercial and institutional buildings, retail centers, industrial facilities, and highway bridges.
A single source...
... Judy Construction Company is more than a general contractor. We are skilled in providing construction management services - one to one coordination of a project from start to finish. We'd like to become your contractor... whether your next construction project is already on the boards, or is still in the conceptual stage.
Professional...
...The senior staff at Judy Construction Company is comprised of professional engineers. Our strong background in civil, structural, and environmental engineering pays dividends when it comes to solving unforeseen problems and transferring plans from paper to reality.
Capable...
... Judy Construction Company is a people oriented company. Our people are our strength. We maintain an average, full-time work force of 175+ skilled tradesman, from carpenters to laborers to iron workers, heavy equipment operators and mechanics. Over the years we have developed expertise in a variety of areas, such as: site preparation, heavy concrete work, utility relocation, process piping, and environmental construction.
On Time, In Budget...
...At Judy Construction Company, we understand our customer's needs, and the discipline it takes to deliver according to schedule. Judy has earned a reputation for producing quality results, while often reducing overall project budgets. At times, we may recommend spending a little more to achieve a higher return on investment. Either way, the customer retains control from start to finish. The initial budget serves as a control estimate against which actual expenditures are measured. Each task and process outlined in the preliminary bid, is monitored as the job unfolds. Completing your job on time and in budget is more than a promise, at Judy it is a way of Life.
Well Equipped...
...Our equipment is an integral part of our field operations. Judy Construction Company maintains a multi-million dollar fleet of modern equipment, including: front end loaders, excavators, dozers, backhoes, compressors, pile hammers, and the second largest fleet of 20 - 65 ton cranes in Kentucky. Each piece of equipment or tool sent to a job has been thoroughy checked to be sure it is in top condition, safe, and will perform as required at the site. All tools and equipment are inventoried at our 10,000+ sq. ft. warehouse and mechanic's shop in Cynthiana, Kentucky. Judy consistently passes tough equipment inspections - and boasts an excellent safety record.
Demanding...
...Judy Construction Company hires only top-notch subcontractors for our projects. Through the years, we have developed a full list of qualified specialists to call upon when needed. These professionals have proven themselves, time and again, by delivering services according to specification, economically, and without delays. More importantly they've consistently met or exceeded our high quality standards.
Reputable...
...Judy Construction Company was founded, and continues to grow and prosper, with a simple philosophy; please the customer, and offer him value. The key to Judy's growth is our ability to manage recourses: the people, equipment and materials that are the ingredients of every project. Our success is evident by our high ratio of repeat business. We stand ready to assist you with your construction needs.